Our shareholders
Our business model is unique
We are a joint stock company, our shareholders are farmers and processors who believe in organic production as the only way to produce food which is good for the land, for those who grow it and for those who consume it.
A group of farming entrepreneurs, private agro-industrial professionals and cooperatives: La Cesenate Conserve Alimentari S.p.A., Brio S.p.A., Pastificio Felicetti S.p.A, Cooperativas Sin Fronteras lnternational, Consorzio Libera Terra Mediterraneo, Chocolat Stella, Pompadour, Molini De Vita S.r.l, Apo Conerpo Soc. Coop and Mediterre.Bio S.r.l.
Therefore, ingredients are grown by our farmers and processed by our Shareholders: seven plants in Italy, one in Switzerland, dedicated to the processing of cocoa, and one in Peru dedicated to raw cane sugar. A group firmly rooted in the land, a concrete and distinctive example of an integrated, organised and sustainable network, whose work is symbolised by the Alce Nero brand.
This is why Alce Nero doesn't manage supply chains, it is the supply chain.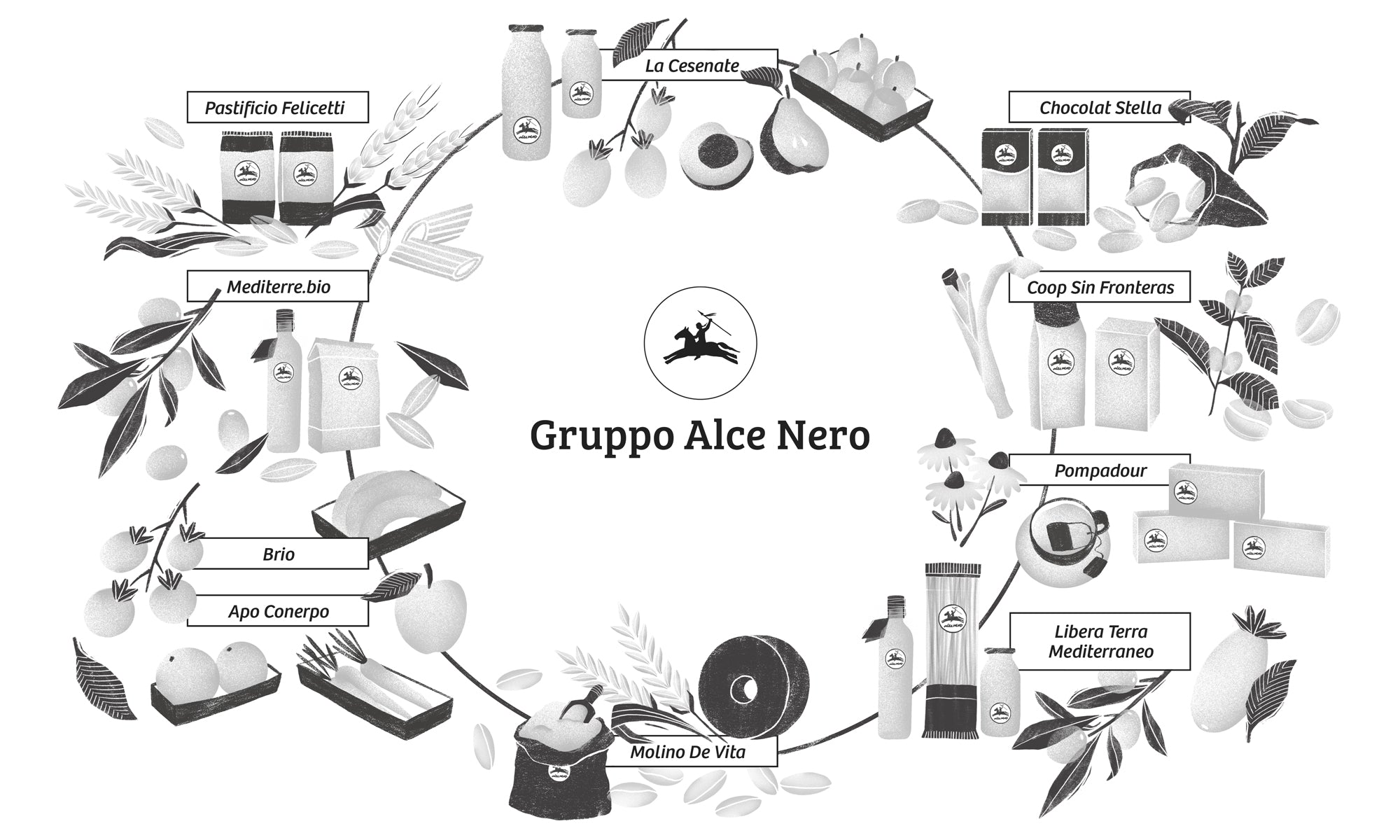 Our holdings
We are a network of enterprises
Alce Nero S.p.A is involved in three important projects developed around the Alce Nero brand, and one around food services.
Alce Nero Asia, a joint venture with the Denis Group, established with the purpose of distributing Alce Nero products on the Far East market.
Alce Nero Fresco, the result of a strategic collaboration confirmed in July 2017 with Brio S.p.a and La Linea Verde Soc. Agricola S.p.A., a leading Italian company for the production and distribution of IV range products.
Alce Nero Freddo S.p.A, a company which produces and markets organic frozen foods, thanks to a joining of forces with Roncadin S.p.A., which since 1992 has been producing frozen pizzas for the national and international market.
Lastly, in the world of quality catering, its holding in Berberè Srl, which directly manages 12 pizza restaurants in Italy and through its London-based subsidiary 8 Slices, 3 pizza restaurants in the centre of London.